Sundays:
All of our Sunday services start at 11am and are designed so that people of all ages, cultures, and backgrounds can be involved and feel welcome.
Our service lasts about 1 and a half hours and refreshments are available throughout the service in case you need to have a drink or walk about.  We also have activities available for children to help them feel part of the service.
We have three different kinds of Sunday services:
Traditional Holy Communion: This service very closely follows the Church of England Common Worship structure (so looks like the services you might see on TV!) and tends to have more traditional hymns played on our organ.
Informal Holy Communion: This service had a bit more of an informal feel and uses less Liturgy (the official words and prayers). We begin with a time of open prayer and then an extended time of sung worship.
Bible Study: We have this service occasionally when there are five Sundays in a month. For this service we begin with open prayer and an extended time of sung worship, followed by our Bible readings, a short introduction to the readings and then a chance to discuss the passage with others in the church and ask questions about the passage. When this service takes place we don't have Holy Communion.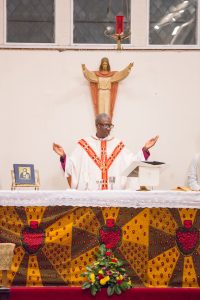 People from all sorts of traditions have made their home at St Luke's and we value the unique style of worship that gives us.
On the first Sunday of the month we have a bring and share lunch after the service, with delicious food from our different cultures.
Tuesday
We also have a short spoken Holy Communion service for about 30 minutes on Tuesdays at 12 noon
Sunday Service Dates:
September:
22nd – Bible Study
29th – Traditional Holy Communion
October:
6th – Harvest Festival Holy Communion
13th – Traditional Holy Communion
20th – Informal Holy Communion
27th – Traditional Holy Communion
November:
3rd – Traditional Holy Communion
10th – Remembrance Sunday Holy Communion
17th – Informal Holy Communion
24th – Traditional Holy Communion
December:
1st – Informal Holy Communion
8th – Traditional Holy Communion
15th – Informal Holy Communion
22nd – Traditional Holy Communion
29th – Bible Study