John Skinner-Legend!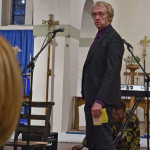 There is a website called the John Skinner Appreciation Society; it was formed by his former students and the word used on it most often is "Legend".
John was a music teacher at Haberdashers Aske school in Deptford and the organist at St Luke's. These are not the roles that normally get young people to describe you as a "legend", or to form a society to appreciate you, which tells you that John was more than a little bit special.
John would frequently tell you how brilliant his Students were, what they had achieved and what incredible talent they had. He spoke in the same way about members of the congregation and about Priests who he admired. He was a legend because he saw in people who might feel quite ordinary and occasionally inadequate, seeds of genius, and because John saw it, his students, friends and even his clergy sometimes saw it themselves, because John believed in us we found ourselves living up to his expectation.
Over the years many wonderful musicians and singers came to st Luke's, taking part in patronal services or concerts, because John asked them to. I have never encountered loyalty from students to a teacher that came close to it. Talking to his student's and some of his colleagues I discovered that John's style of teaching was theatrical and witty, though often the first time you encountered John, it could be terrifying. His standards were incredibly high, and yet if you went to his productions the standards were achieved and the passion John felt for his students was reciprocated. John was made an MBE and a freeman of the city of London.
If John was a Legend in life then the way he travelled to his death was an inspiration. I was privileged to see the outpouring of love towards John, from his friends, family and former Students, even very close to the end John found energy and took pleasure in the visits from his young Students. I was also moved by John's faith. He valued prayer and the sacraments and was aware of being held by a community before God. John has always been serious about his Christian commitment, and faith was never simply a comfort for John, it was also a challenge to discover what God was asking of him. John understood at a profound level that he was called to be a disciple, someone who in all circumstances is being shaped as a follower of Christ.
John died on Saturday the 23rd of August and his Funeral will be held at Southwark Cathedral on the 18th September at 3pm. Rest in Peace John Skinner,
Well done thou good and faithful servant.